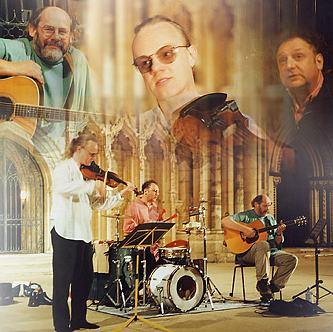 The Ric Sanders Group is:

Ric Sanders - violin, baritone violin
Vo Fletcher - guitar
Michael Gregory - drums, percussion
Plus special guest
Chris Leslie - violin, mandolin, bazouki, vocals
HOME

Vo Fletcher's association with Ric Sanders goes back many years, and together they have played in many different musical settings. Vo now writes extensively for television and has been much involved in educational music. He has worked both in the studio and live with artists as diverse as (Nigel) Kennedy, John Etheridge, Andrew Cronshaw, Rik Mayall, Fred T. Baker, and David Lowe. He brings an enormous wealth of musical styles and improvisational skills to the group.