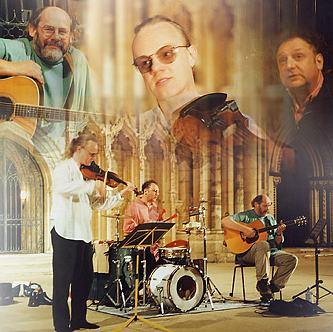 The Ric Sanders Group is:

Ric Sanders - violin, baritone violin
Vo Fletcher - guitar
Michael Gregory - drums, percussion
Plus special guest
Chris Leslie - violin, mandolin, bazouki, vocals
HOME

Michael Gregory played drums in the "Rise Up" Albion Band. He was also in the ground breaking group The Home Service with John Tams, Graeme Taylor, Howard Evans and Co. Greg has played too with The John Kirkpatrick Bend and The Maddy Prior Band, and Martin Simpson. For many years he has been involved with theatre music (at The National and The Globe etc.) and film music. This, along with years of studio experience means that like Vo, he brings a wide range of influences to the music.