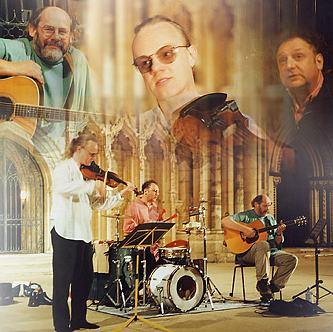 The Ric Sanders Group is:

Ric Sanders - violin, baritone violin
Vo Fletcher - guitar
Michael Gregory - drums, percussion
Plus special guest
Chris Leslie - violin, mandolin, bazouki, vocals
HOME

Chris Leslie has been alongside Ric in Fairport for the last 5 years. He has become the group's major song writer and his multi-instrumental talents have brought a new element to the band - including the now obligatory head to head fiddle duets with Ric.
Prior to Fairport his distinguished folk career has included working with Whippersnapper (along side the great Dave Swarbrick), The Albion Band, Kevin Dempsey, Chris While and Julie Matthews, and David Hughes.

With The Ric Sanders Group Chris has the opportunity to explore some different musical avenues, such as his excursions on jazz mandolin, alongside some new interpretations of his songs and material from his solo albums.