EARLY YEARS
Born in Norfolk, Paul started his musical career in the late 60's and early 70's playing piano and keyboards for blues and soul bands, music which was always to influence his own singing and composing.
Paul well remembers the first experience of hearing Ray Charles sing 'Georgia on my mind' on the radio. ''I was about 15 years old, and when I heard the power and emotion of that voice, it blew me apart. It certainly put the current music like Cliff Richard and Billy Fury in the shade. I remember hitch-hiking to London at the beginning of the 60's to see one of the first performances of Ray Charles in the UK, he was really the 'genius' in those days, and I spent the night after on Liverpool Street Station in a daze, trying to take it all in.'' After that he was hooked on black American music. ''Much of the time, you had to hitch-hike over a hundred miles to London just to buy a record of this music - remember it was just before soul and blues became very popular in the UK with Motown and Atlantic Records''.
In the mid 60's Paul came to London and went to college while he checked up on the thriving blues scene there. Eventually he joined several bands as a piano player, beginning with his own band 'Sweet Thunder', and subsequently touring the world in the bands of Alexis Korner, Eric Burdon, various visiting blues singers like Louisiana Red, Dr Hook's Denis Le Courier, Peter Thorup of CCS, Bert Jansch and Jo Ann Kelly. Later as a a solo artist, he worked with John Mayall, David Crosby, Murray Head, Ralph McTell and John Martyn .
SOLO CAREER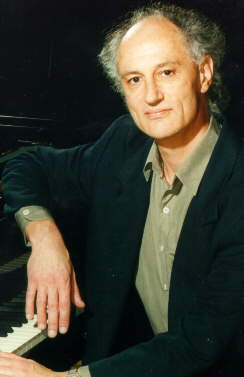 Paul was always writing while on the road. ''Like so many I had also been influenced by the 60's singer/songwriter movement, especially Dylan, Joni Mitchell and Tim Hardin, and I sought to incorporate the blues and soul feeling with the writing. Unfortunately the bands I was playing in didnt want to do my songs, they wanted to stick to the classic blues repertoire, so there was no help for it but to sing them myself.''
In this Paul had early support from Tony Hall, an ex Radio Luxemburg DJ who had started his own record production company. He ensured the release in 1975 of the first solo album of Paul's own songs on Phillips/Phonogram, called ''PAUL MILLNS'' and produced by the great arranger Del Newman. The first versions of ''Too much between us'',''Look at the Madman'' and ''Sweet is the Wine'' are here along with an epic performance of ''A Sailor's tale''.
Contractual problems caused Paul to leave Phillips soon after, and for a while he was signed to Rocket Records, owned by Elton John. Meanwhile Paul was off on his first solo tours in the United States and building up a strong reputation in Europe, especially Holland and Germany. In 1979, aftre leaving Rocket Records, a trip to Germany to record a soundtrack of original songs for a German feature film ''GIBBI WESTGERMANY'' directed by Christel Buschmann, brought increased recognition in Europe. A soundtrack album was released on Teldec Records, and it was followed by a new studio album in 1980 on Teldec called
''HEARTBREAKING HIGHWAY'', produced in Munich. It was during the recording of this album that Paul met the saxophone player Olaf Kubler, who was well known in Germany for his appearances with German artists like Amon Duul, Passport and Udo Lindenburg.
Olaf and Paul hit it off immediately and began a musical partnership that lasted on and off for many years and included the recording of Paul's highly acclaimed album ''FINALLY FALLS THE RAIN'' in 1984. This was recorded live and direct to disc in the famous Bauer Studios near Stuttgart where many renowned ECM recordings were made. Featuring just Paul and Olaf [playing flute and tenor], the critics praised its sound and performances. Highlights are a bluesy ''Down in the danger zone'', the title song with Olaf's haunting flute, Paul's solo performance of ''Yesterday's hero'' about an old man reliving his life through old photographs, and Paul and Olaf tearing apart Sam Cook's classic ''Bring it on home to me''. It is still Paul's biggest selling album. Brit award winning singer Eddi Reader recorded ''Finally falls the rain'' with guitarists Mick Linnard and David Hughes.
Meanwhile, back in England, Paul had moved to Putney, south west London and joined friends Ralph McTell and Bert Jansch on the Mays Records label which resulted in the album ''TILL THE MORNING COMES'' featuring a completely solo piano and voice performance of the songs. Tours supporting Ralph, Bert and John Martyn followed.
But recognition for Paul's mix of soul and songs was always slow in Britain, so he returned to Europe where his reputation was enhanced by the release of ''REACHING OUT'' in 1987. It was made in Holland and London, was produced by long-time friend and bass player Nigel Portman Smith, from Magna Carta, Chicken Shack, Eric Burdon's Band (when Paul was playing piano) and for many years the successor to Danny Thompson in Pentangle. The album also featured the three Kokomo singers, Neil Hubbard from the Grease Band and Micky Moody from Whitesnake on guitars, and Nick Pentelow on saxophone. A storming version of "No one listens to the night", complete with chanting Kokomo singers and brass arrangements by Steve Gregory, starts off the album, which also includes favourites like "Last train blues" and the moving "Martha"- the story of a woman committed to an institution.
For the next album, Paul journeyed in 1989 to New York to team up with some of Joe Jackson's band to make ''SECRET OPERATIONS'', a record highly acclaimed in Europe, and it included a guest appearance by the great bass player Danny Thompson. Highlights of this album include the first recorded version of ''Man overboard'', the sinister title song, ''Katya'' - an affecting song of low life on an Italian piazza, and a rocking version of ''Nobody home''.
During the 80's, appearances on European TV shows, especially a solo show on the biggest TV rock programme of the 80's - 'Rock Palast' in Germany, maintained his profile there. He performed in USA and Canada, and toured regularly throughout Europe both solo and with the backing of top British musicians. In Scandinavia he often appeared together with top Danish blues guitarist and singer Peter Thorup, well known for his association with Alexis Korner and CCS. Critically acclaimed appearances were made at the main continental festivals and in Britain at the Edinburgh and Cambridge festivals. Two years running he appeared in a trio performance at the Edinburgh Arts Festival [the largest in Europe] together with the legendary Bert Jansch from Pentangle and Nigel Portman Smith on bass.
In 1994 Paul signed to Hamburg record label Hypertension, who put out the compilation album ''SIMPLY BLUE''. Paul recalls, ''the record company wanted to release a kind of ''best of'' CD, but I didnt want to listen to old versions from many years before, so I re-recorded most of the numbers like ''Too much between us'' and ''Till the morning comes'' just at the piano, and added one or two live versions like ''Man overboard'' and a ''lost'' recording of me and Danny Thompson playing ''Sent off the field'' live in the studio''. The result, critics in Europe agreed, was a success and it particularly appealed to the many who were unaware of Paul's early albums and songs.
On the strength of that, Hypertension released ''AGAINST THE TIDE'' in 1995. Paul recorded this album of all new songs in London with the Pentangle rhythm section of Gerry Conway [drums] and Nigel Portman Smith [bass], and with great contributions from Ralph McTell, Bert Jansch and Fairport Convention's Ric Sanders on violin. The band is heard at its best in ''Drive she said'' and ''Unwelcome neighbour'' [a chilling song of racial violence, and very popular in Germany since the rise of neo-nazi violence against immigrants there]. Other highlights include Paul's own version of ''When love comes calling'' with Ralph McTell on guitar - a song already picked up and recorded by other singers, and an outstanding duet with the great singer Christine Collister on ''Dont wait too long''.
Now early in 1998 will come the new album ''UNSUNG HEROES'' , recorded in the summer of 1997 in Freiburg, Germany with the musicians Paul has most often worked with in the last years - Nigel Portman Smith on bass, Vladi Kempf on drums, and with Nick Pentelow on saxophone and Paul Henry on guitar on some tracks. This is an album of all new songs - maybe more 'bluesy' in tone than some of the recent albums, but with another amazingly wide range of songwriting, from the almost country rock mood of ''Sleeping by the telephone'', the wry humour of ''Lovely day'' and ''Forbidden kisses'' [written in the classic American standards style], the oblique view of domestic violence in ''Daddy dont come home'', and the late night blues humour of ''Free delivery of the blues''. Of course it also includes Paul's own version of ''Forget her'' after Bonny Tyler recorded it in 1996.
Critics have always commented on the soul quality of Paul's vocal style in the tradition of great smokey voices like early hero Ray Charles and Joe Cocker. This together with his piano style, has always given his own performances of his songs a strong 'bluesy' character mostly absent from the work of other singer/songwriters. Recently, with several singers taking an interest in Paul's repertoire, he has started to concentrate on writing for other performers.
The main breakthrough for Paul as a composer was Elkie Brooks recording ''Too much between us'' for her hit album''Pearls 2'', and many other artists have performed and recorded his songs, most recently Bonny Tyler [''Forget her'' on her 1996 album ''Free Spirits'']. A trip in 1997 to Nashville, America's songwriting city, to write with top US composers like Robert White Johnson and Karen Taylor Good, and a gig in the famous Bluebird Cafe, was so successful that Paul is returning there in the spring of 1998.
Paul has composed music and songs for several European film productions, and music for Thames TV, Channel Four and BBC Two programmes, including TV Society and BAFTA award winners. A new direction in 1994 was Paul's collaboration with writer David Lake in the first ''interactive book'' - ''TEARS OF GLASS'', a psychological thriller with its own soundtrack tape of Paul's songs. Major Hollywood studios are interested in this project. He has recently enjoyed writing together with long time friend Benny Gallagher of Gallagher and Lyle fame, and with Chris Neil, the producer and writer of Mike and the Mechanics and top selling artist Celine Dion.